Richard and Eliza Frost's family, 1881
If you have been following this occasional blog, you'll have noticed a slight obsession with finding a few of my ancestors - my Lost Frosts. I may have found what happened to one or two of them.
Richard Frost (junior) was born in Leicester in 1878. Like his older sisters Elizabeth and Maria, and his mother Eliza Frost nee Worthy, there was no trace of him after the 1881 census. Father Richard, aged 35, died in June 1882 and his death was recorded at Gresham Street, Leicester. Widow Eliza was then 32 years old - young enough to remarry and have a second family - but there is no trace in the UK records of this happening. Her younger sister Elizabeth had three families - both in and out of wedlock - so I scoured the censuses throughout Leicester and the whole UK looking for Eliza and the children with different surnames. No sign. I checked with unregistered deaths and burials at Leicester's cemetary where others in the family were laid to rest - again, no indication that Eliza and the three children were there. I checked all Eliza and Elizabeth's siblings' census entries to see if the children had been housed with them - no, nothing. I wondered if the youngest daughter registered to Eliza's parents - Lavinia - was really their granddaughter as she spent her life living with Eliza's younger sister Maria Diggle nee Worthy, though the birth was registered to William Worthy and Sarah nee Hayes, but none of that wondering found Richard's family.
Knowing that Eliza must have been close to her mother Sarah Worthy nee Hayes (born near Nottingham in 1829) - the grandparents were living with Eliza and Richard Frost in 1881 - I then researched up and across Sarah's Hayes tree, into the mining community of Nottinghamshire. I found that Sarah's older sister Ann Hayes, born 1826, gave birth to a couple of children (Elizabeth and William) prior to her marriage with James Knowles in 1853 in Bullwell, Nottinghamshire. Many children later - including a son, Thomas, tragically killed in a mining accident aged 16, in 1882 - Ann separated from husband James and nipped across the Atlantic to Philadelphia, USA, arriving on 18 October, 1883. She travelled with son James Knowles (b. 1849) and a grandson James (b. 1877, parents yet unknown). At least two others of her offspring - William and Joseph Knowles - had made homes in Pennsylvania, USA. Later Ann's daughter Elizabeth joined the family in the US, travelling from Leicester.
Elizabeth had shown up with various surnames including Hayes (registered in her mother's maiden name, no father listed), Knowles (stepfather), Graves (married name - widowed in Leicester in 1886 after only six years of marriage - her marriage cert names her as Elizabeth Manchester Hayes - this is important). Elizabeth was later accused of marrying her uncle in the USA. There is another story there. I spent a lot of time looking into her family, taking me down an interesting path but not the main purpose of this research.
Back to the Frosts. A while back, I had found a lone Richard Frost, right age, apparently travelling alone to the USA, arriving in Philadelphia in 1889. And a lone Maria Frost, again the right age and from Leicester, also sailing across the Atlantic but to land in New York in 1885, aged only eight years old. None of this made any sense other than a tenuous connection with great-aunt Ann and her family. Why would two little children cross the ocean - alone? If they were really my missing Frosts, wouldn't they travel with family? Maria appeared to be travelling with a Joseph West from Leicester, so I spent more fruitless time trying to find out who he was, even looking at a police constable of the same name (but why would he take a child to the USA and then be back with his wife?) - all the while thinking, this is not 'my' Maria, she is probably in a pauper's grave in Leicester.
Passenger list naming Richard Frost
But this weekend - bored in lockdown - I took another look at young Richard's possible passenger list.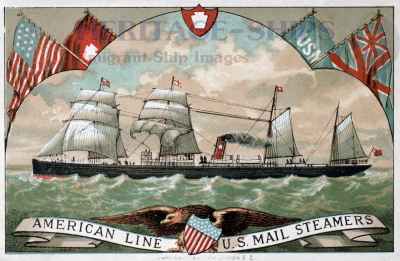 British King
Young Richard travelled on the passenger ship the British King, a steamer owned by American Line (more info here). I went through the entire passenger manifesto looking for names that had some connection to the Frost/Bonnett/Worthy/Hayes/Knowles family. Realised that this passenger list was ranged alphbetically, not by groupings of families travelling together. Found a William Worthy, aged 18: no record of his hometown. Went back to the UK census and tried to find this William and see if - of all the UK - he might have been related to Eliza nee Worthy and therefore this young Richard Frost.
Guess what. I had missed something really important a long time ago.
In 1881, Richard and Eliza Frost lived in Leicester at 4 Brunswick Terrace on Palmerston Street - a tiny, tiny home. Not only did Richard and Eliza and their three children live there, so did Eliza's parents, William Worthy and Sarah nee Hayes. And right next door? William's brother John Worthy (aka Wortley) and his wife Maria (or Martha) nee Mee. John and Maria had no children and I had already traced them in other censuses living with various branches of the family while I was looking for my missing Frosts, but in 1881, right next door to Richard and Eliza, they were living in Leicester. With a nephew, William Worthy, aged nine.
I had missed who this William was.
William Worthy's birth was registered in the third quarter of 1871 - therefore after the 1871 census - in Leicester, with mother's maiden name Hayes. I had completely missed finding William, Eliza's youngest brother.
William Worthy was on the British King with Richard Frost. Richard was travelling with his young uncle towards a new life in the USA. My hunch that the family emigrated looks like it may now be confirmed.
I haven't found William Worthy or a definite Richard Frost in the USA, yet. But I now think that this research is on more solid ground. There's a lot more work to be done now! (The loss of the USA census for 1890 makes this tricky as Maria - if it is her - would most likely have married and have a new name by the 1900 census.)
A few years back I was in Philadelphia for work: even climbed the Rocky steps. Who knew that there was family there?
We are all immigrants; every single one of us.